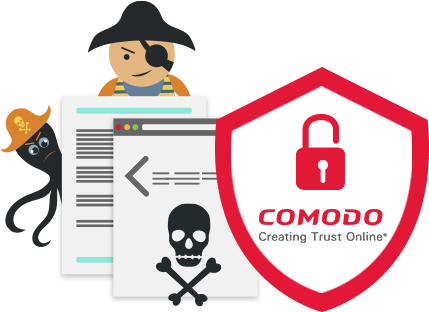 SSL - Secure Your Website and Customer Data
SSL Certificates (Secure Sockets Layer) protect your customer's personal data including passwords, credit cards and identity information. Getting an SSL certificate is the easiest way to increase your customer's confidence in your online business.
SSL certificates aren't just demanded by sites which process payments or request user info, in reality, it's necessary for just about any site that collects visitors' info. Even when you're in charge of a very simple site, you don't need the people to understand that your site isn't protected. An SSL certificate is crucial to acquire customer's trust.
From July 2018: Google has started marking all HTTP sites as "not-secure" in the new released Google Chrome 68
(If you're using old Google Chrome you can't notice this update – Please move to new Google Chrome 68 version by updating)
Why Buy an SSL Certificate
SSL certificate makes your site full secure HTTPS site, means your site moves HTTP to HTTPS with SECURE Green Padlock

Encryption
Just the web server along with the customer can decrypt the data. This implies, nobody can abuse or steal the information during transit.

Authentication
There is no doubt that in these days individuals are exceptionally conscious when they're making payments on online. A green padlock (SECURE) on the website guarantees that the website is totally reliable and genuine.

SEO Ranking
Considering 2014, Google has been observing and giving priority to the sites with SSL certification in SEO ranking. Thus, acquiring an SSL on your website will improve your chance to rank higher. And we have tested some of our clients sites and noticed that their rankings are better than before after SSL

Information Protection
Safety of your information: That is another significant advantage. You have to secure your information also. SSL certification guarantees that the information you send via your site just like a promotional code can also be protected as SSL simplifies both received and sent information.
How do I Secure My Website?
The most usual solution is to go to get an SSL certificate (Secure Sockets Layer). While, you can opt for a free SSL certificate also, we recommends to clients to purchase a strong SSL certification for your website.
SSL - 128 or even 256-bit encryption guarantees that a rock-solid security of your site information. Rify Hosting offers COMODO SSL Certificate, COMODO is the industry leader in providing SSL/TLS certifications in the World, which means you don't have to fret about your customer information in any way.
Do not wait until the Chrome upgrade gets implemented purchase an SSL certification now to secure your website.
SSL Certificate Prices - Select a Certificate that works for you
SSL FAQ's
1. What is an SSL Certificate?
An SSL Certificate is a digital certificate issued for a domain by a central authority called the Certificate Authority. To be issued an SSL Certificate, you must purchase an SSL Certificate and then go through a verification process conducted by the Certificate Authority.
2. Why should I buy an SSL Certificate?
An SSL Certificate does 2 things: a. Encrypt the information sent from your user's browser to your website b. Authenticate your website's identity.
By doing these 2 things, an SSL Certificate protects your customers and in turn increases their trust in your online business. This is especially important if your website requires users to login using passwords or enter sensitive information such as credit card details.
3. Do SSL Certificates work in all browsers?
SSL Certificates are compatible with all major browsers.
4. Can I upgrade my SSL Certificates?
Unfortunately, we don't support upgrades/downgrades at the moment. If required you can purchase a new certificate and install it on the same web server as the old certificate
5. Do I need technical expertise to set up an SSL Certificate on my website?
While it isn't difficult to install an SSL Certificate, it does involve following a series of steps. You can find more information in our KnowledgeBase.